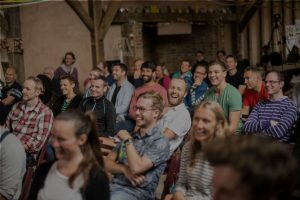 Recruiting top talent is a skill. You must adapt to the evolving landscape of technology and the diverse personalities you encounter daily.
The most successful recruiters speak the same language as their candidates: meeting them where they are and catering to their interests.
Since sourcing strategies are ever-changing, you want to stay up to date on the best ways to source candidates by following these employee recruitment strategies. Through building a strong online presence using social media and establishing credibility, employers are more likely to identify and capture the attention of top talent.
#1 Expand Your Online Network
Building an online presence can help you grow out your personal and professional networks, ultimately connecting you with more potential employees. Social media can also be a strategic tool for talent acquisition, because it provides a platform for you to cultivate your digital brand as you network online.
Updating your Linkedin profile is a good place to start. By sharing more information about your role at the company and details about the work culture, you are indirectly inviting individuals to connect with you. Videos of happy employees enjoying a healthy work/life balance and fun team environment will give candidates a glimpse into what it's like to work for your company.
You can use Facebook, Twitter or even Instagram to recruit employees these days.
Potential employees will be attracted to different channels, so you may need to experiment with different approaches to discover what will generate the most interest and promote more engagement.
Share articles on Facebook that relate to the industry that candidates and other professionals will find appealing.
Post photos of events and show off your community involvement on Instagram.
Use Twitter hashtags to broaden your audience. Hashtags are searchable to the public allowing people who aren't following you to find you through shared interests and trending topics.
Sharing relevant information in niche groups can increase your chances of connecting with your talent. Join groups designed for job seekers in specific industries where you can post jobs. Group members can tag friends and share the posting with others who might be interested.
For example, you may find an ideal candidate on Linkedin that looks like a great fit for a role, but you have no connections in common, inhibiting you from sending them a direct message. Check out their interests. Look to see what groups they're in and join them. You can do the same thing on Facebook.
#2 Establish credibility
As a leader, you understand the importance of making a solid first impression with clients and employees.
Just as you manage your professional relationships in person, establishing credibility online requires the same attitude and attention to detail. Sharing interesting and relevant information with your network gives people insight into who you are and how you represent your company.
Keep content relevant to your target audience. Posting on social media gives you the opportunity to share your company's goals, problems your company is solving and the benefits of your products and services.
Use these platforms to market your brand by sharing news articles and updates about how you're making a difference in your industry and impacting your clients.
Publish content that will capture and engage your ideal candidate's attention. Pay attention to your newsfeed and comment on articles you find interesting.
You can build your reputation on Linkedin by including your work history and getting recommendations from past co-workers or managers. Personalize your messages when seeking out connections on Linkedin or Facebook. As you build your reputation and show off the benefits of working for your company, you are building your brand to increase your chances of attracting talent and making candidates more accessible.
#3 Be intentional with those Job Descriptions
Writing a job description comes easy when you know what your ideal candidate looks like. If you're still not sure, nailing down the details of what you really need for a new or backfill position is key for strategic recruitment. Before you create your job posting, identify your ideal profile. It sounds so simple, but it can save you a lot of time. Once you and your team are in agreement about the specifics of what you're looking for, you can base your job description around this person's background, skills and experience.
When crafting your job description, use keywords and industry language to push your job to the top of search results. Draw from the language in that ideal profile. Successful employee recruitment thrives on the employer's ability to be clear and concise about what they're really looking for.
The most successful job postings are strategically placed. If you're searching for a senior level web developer, you probably won't catch your ideal candidate browsing Monster. Refer back to that ideal candidate profile. Post your job in the same groups you have in common on Linkedin or Facebook.
Use your network to get referrals. Share a status post with your network, asking "Who do you know that might be a good fit for this position?
#4 – Sourcing strategies
Now that you have set yourself up for success on social networks, you can dive into other online sourcing methods.
Google will actually grab more LinkedIn profiles than LinkedIn itself. You'll want to deploy Boolean search strings into your Google search. Google's advanced search settings has made it easier than ever before to build the perfect search string.
Here's how it works: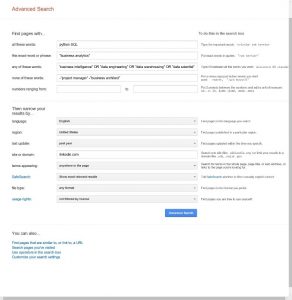 Open up Advanced Search on Google.
Enter the search terms that define your ideal candidate. You can search by the job title and keywords or phrases. Depending upon the results, you can go back and modify your search to cast a broader net.
When sourcing from Linkedin through Google, add "profile" to the beginning of your search string to specify the types of results you are seeking. You can narrow down the location and the company you want to recruit from.
Now that Linkedin has caught on to this, they are limiting the number of views for public profiles on a daily basis. To get around this, use an anonymous browser window, i.e. going "incognito" on Google Chrome, to view profiles without Linkedin tracking your views for the day. You can use this technique to grab more profiles outside of your network.
To source your ideal candidate profiles, understand and apply the language candidates use to describe themselves. Drawing from that ideal profile, apply the phrasing that states the types of accomplishments you want to see on a resume. Action words like "configured" or "assembled" will direct you towards those relevant profiles.
Another handy talent acquisition strategy is to contact candidates through their personal and company email addresses. Using sites like Email Hunter or Lusha will help you track down emails with a limit on the number of free uses. With a tight budget and limited time to search, you might consider installing Rapportive for free. This extension to chrome pulls from social media platforms giving you the ability to "guess-and-check" email addresses and view your contact's social media presence, giving you a brief overview of their bio and recent online activity.
#5 – Candidate Engagement
Now that you've found a way to connect directly with your candidate, it's time to craft the perfect message.
Keeping candidates engaged can be the greatest challenge, as there are so many recruiters on the hunt for those same all-star candidates.
Successful employee recruitment is dependent upon how savvy your communication skills are. The strategy in communicating with passive candidates is generating interest and giving them reasons to engage with you. Be authentic. Explain what your company has to offer. Don't overwhelm candidates by sharing the entire job description in the first message.
Start by sharing what drew you to their profile. Complimenting candidates on their achievements and unique skillset is a great way to start a conversation. Tailor messages to individuals rather than sending mass emails.
Take the time to ask what candidates like about their company or their job. Find out what motivates them. They may be interested in career advancement or an improvement in work/life balance. Listen to candidates to know which benefits are relevant to their specific needs and interests.
Candidates can get lost without consistent follow up. By setting clear expectations and following through, you are nurturing the candidate relationship and maintaining credibility, keeping them interested and engaged. As you develop these relationships, candidates are learning not only what to expect out of the hiring process, but also what to expect when working for your company.
A little organization can go a long way. Streamline communication by using templates when emailing and interviewing candidates to save you and the team valuable time. Prepare for phone screens by reviewing resumes in advance and outlining the key areas you want to address in the initial conversation.
Keep the recruitment process moving forward in a timely manner by scheduling phone screens within a few days of the initial contact. Stay in touch and set clear expectations that are attainable.
Remember: Collaborating and communicating with your recruitment team will make the talent acquisition process a seamless effort. Share these strategies with your team to keep everyone up to date and informed on recruitment best practices. Brainstorm with your team to integrate these talent acquisition strategies into a process that will help you attain your recruiting goals.