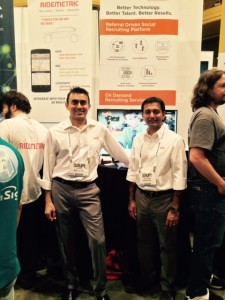 Reflik, presented its game-changing technology at TechCrunch Disrupt in New York City on May 4th – 6th.  This was the startup's first year of participation in the 3 day event, one of the largest technology conferences held annually in the U.S. and New York is the happening place.
"Disrupt was a Great Way to Introduce our Revolutionary Platform"
Reflik was one of only 100 companies featured on "start-up alley".  Ashish Vachhani, CEO of Reflik said "Disrupt was a great way to introduce our revolutionary platform and Start Up Alley gave us lots of exposure to just the right people."
In the "Enterprise" category, Reflik was unique in its offering – which fits with the company view of the product.  Reflik's platform harnesses social media and the power of crowdsourcing to help employers find good candidates and job-seekers find great jobs.
Leveraging the Power of Social Media to Bring People and Businesses Together
Reflik works through a referral system in which members can match their social media connections from Facebook, LinkedIn and other networks to jobs listed on the site.  A successful hire of a connection – means a reward for the referring member.
Employers, recruiters, members and job-seekers all win on Reflik and the platform is set to change the way recruiting is done.  Reflik's management looks forward to more events like Disrupt so that everyone can see how great the service is.
As they say, "Referring has never been more rewarding" – check out the already released beta version of Reflik's game-changing platform.