Independent recruiters and staffing agencies love Reflik for its service. We connect talented, hard-working recruiters and companies that are actively looking to hire. We also provide our recruiting community with technology. Our technology makes recruiting easy. In this Recruiter's Technology Update, we will talk about the Notes feature of the Track Candidates section.
The Track Candidates Section
Track Candidates is a section on the Reflik platform that features a list of candidates submitted by the user.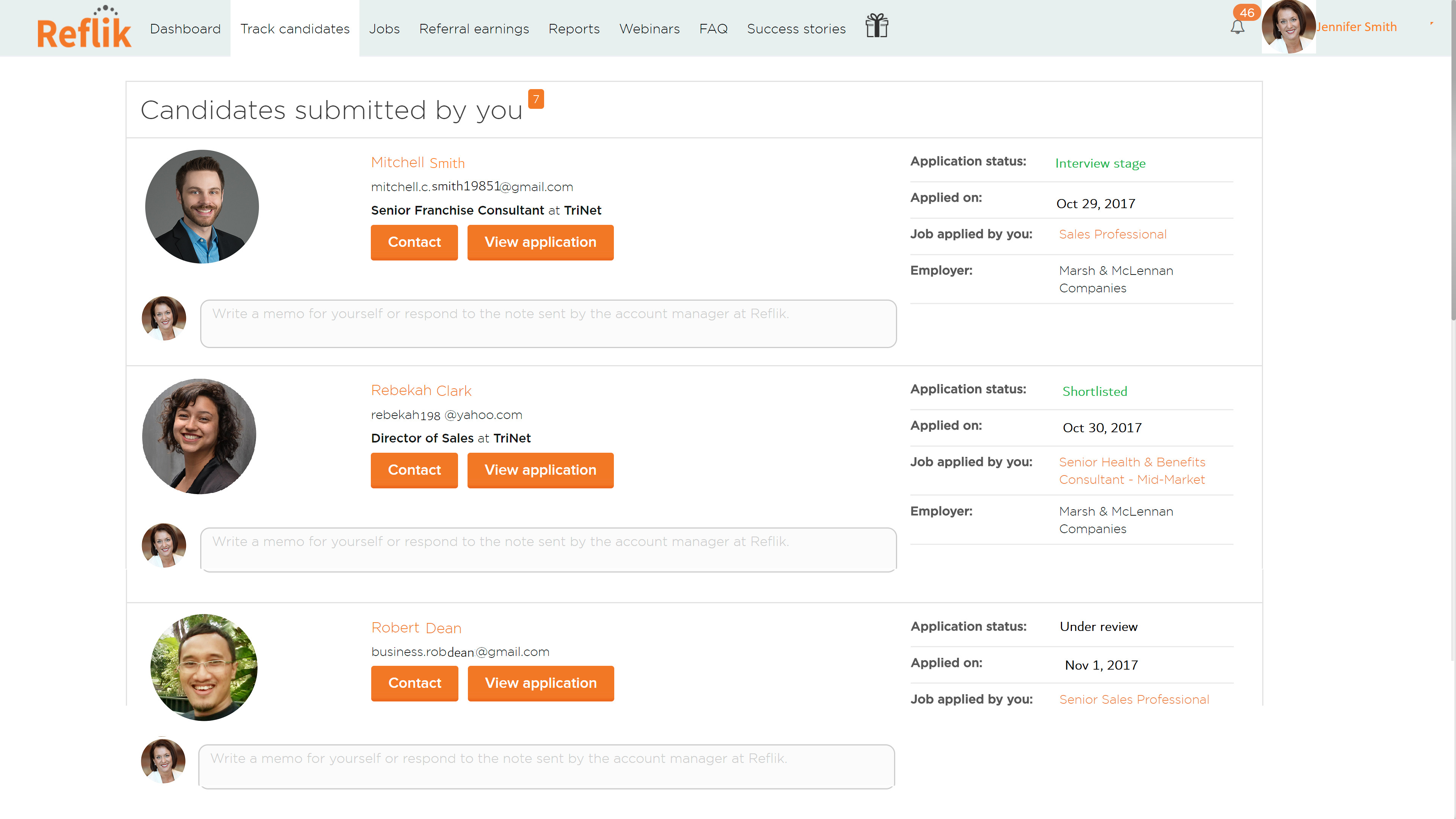 Benefits of Track Candidates
For every candidate listed on Track Candidates, recruiters can:
Edit the candidate's application.
View rejection reason(s).
Write themselves a note.
Write to employers/the appropriate member of Reflik's account management team.
Respond to employers'/account managers' questions and concerns.
Keep candidates warm with the latest updates.
Ask candidates questions.
Features of Track Candidates
Track Candidates is equipped with a few features:
Contact Button: Recruiters can compose and send an email to the candidate.
Edit Application Button: The Reflik application has a few components, including: a resume, screening questions, and an executive summary. Recruiters can edit any of these components whenever they want.
"i" icon: If a candidate has not been selected, recruiters can read why by hovering over the "i."
Introducing Notes
On October 27, 2017, Reflik launched a new feature in Track Candidates called Notes.

Benefits of Notes
Using Notes, recruiters can revisit the entire history of any candidate's application. Other benefits include:
Record the latest developments. By default, only the user can see the notes that she has written. Recruiters can write notes, while their thoughts are still fresh, and re-visit them when necessary.
Communicate directly with candidates, straight from Reflik. Recruiters can send notes to candidates right from the Reflik platform. This allows them to manage their candidate relationships: ask questions, share updates, etc.
Represent Candidates. Recruiters can answer Reflik account managers' questions as well as ask their own questions using Notes.
How Notes Works
On the left side of each candidate listing, there is a text box. Recruiters use this text box to activate Notes.
Once recruiters click the text box, they can type out a note:
Type out a note in the text box.
Click Share With, right next to the eye icon in the Viewability Settings box. Select who else can view the note: the candidate or the account manager. By default, only the recruiter can view the note.
Recruiters can edit every note that they have written. Click the Edit link found next to each note.
The Notes Feed shows the notes recruiters have written and have been sent. Recruiters can view unread and read notes.
Conclusion
At Reflik, we understand the importance of communication for recruiters. We are using technology to destroy the "black hole" phenomenon. Too many times, recruiters do not receive the feedback that they need to do their jobs well. This is a growing problem within the staffing/recruiting industry. Here, at Reflik, we're solving it.
We hope this brief article was helpful. You should be comfortable using Track Candidates and Notes.
To see how Track Candidates or Notes works, sign up or sign in to the Reflik Talent Crowdsourcing Platform. Feel free to email us at support@reflik.com or call us at 855-573-3545