For a long time, the staffing/recruiting industry has relied exclusively on emails and phone calls to get clients the latest updates on candidates. Likewise, clients have written emails and made phone calls to manage relationships with recruiters.
At Reflik, we've added another channel to this communication mix – simplifying the process and putting everything in one place.
In this Talent Acquisition Technology Update, we will cover the Notes feature. Thanks to this new feature, Reflik clients can now talk to an account manager and their candidates, review candidates' details, and move candidates along the hiring process – all within the Jobs page of the Reflik platform.
Here's how the Notes feature on the Reflik platform works
Open the Jobs section on the Reflik platform.
For each candidate submitted to your open jobs, there is a Notes section. Click the text box at the bottom of each candidate listing in the Jobs section to activate the Notes feature. See the screenshot below.
Once you are done typing out your note, you are ready to select who can read it. Under your note is a Visibility Box. Here, you can select either the candidate's name or your account manager's name. Select either, both, or neither. By default (when neither the candidate nor your account manager is selected), only you can read the note.
You can read all the notes shared with you in the notes section. As you receive new notes, scroll through the Notes feed that appears under the text box. Unread notes are marked with a blue dot. See the screenshot below.
You can edit all the notes that you have written. Simply click the "Edit" button next to your note in the Notes feed.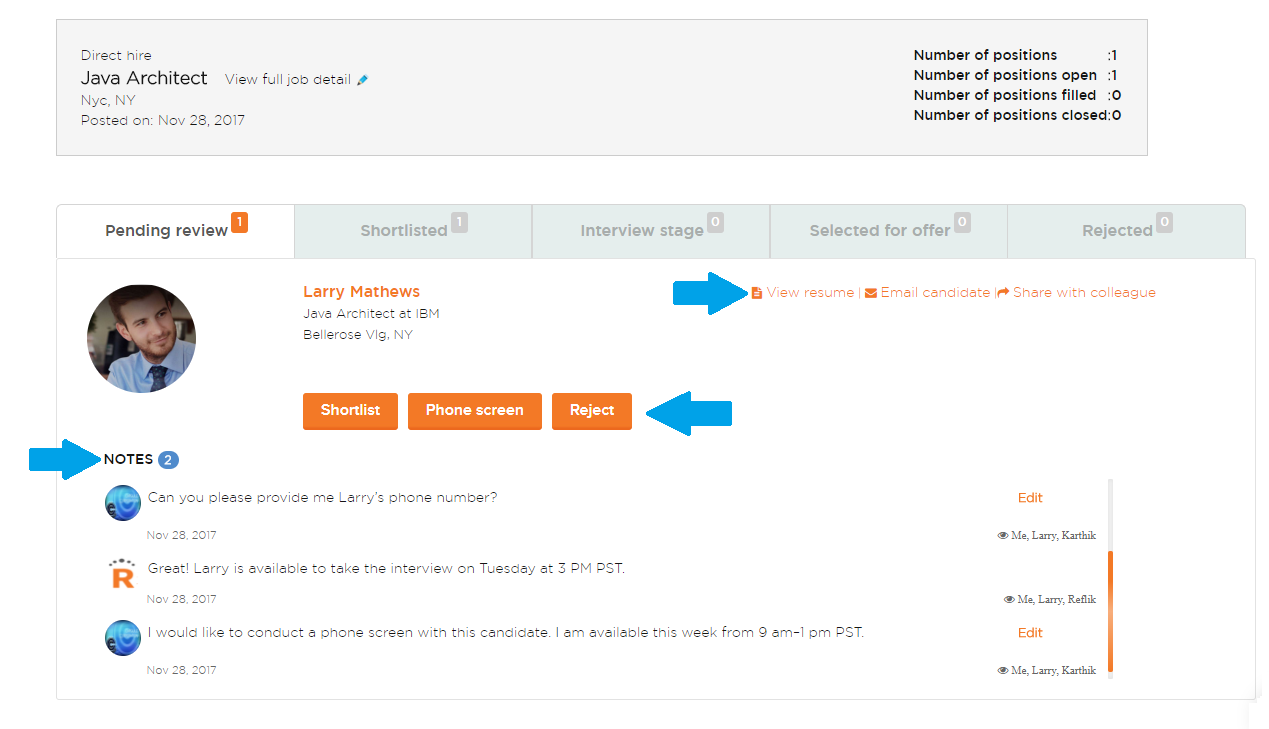 Review, Contact, and Share Candidate Details
Employers will still be able to view the candidate's resume, contact the candidate, and share the candidate's information with your colleagues. We have changed the look of the buttons to simplify the user experience. These buttons can be found now in the upper right-hand corner of each candidate listing.
Conclusion
The Notes feature was built to help clients reduce their administrative burden when reviewing and communicating with candidates as well as when working with their account manager.
We thrive on continuously updating and improving our technology. Any feedback about how we can improve the Reflik platform to fit your needs would be much appreciated. Contact support@reflik.com. We would love to hear your thoughts about this feature and any others on our product.