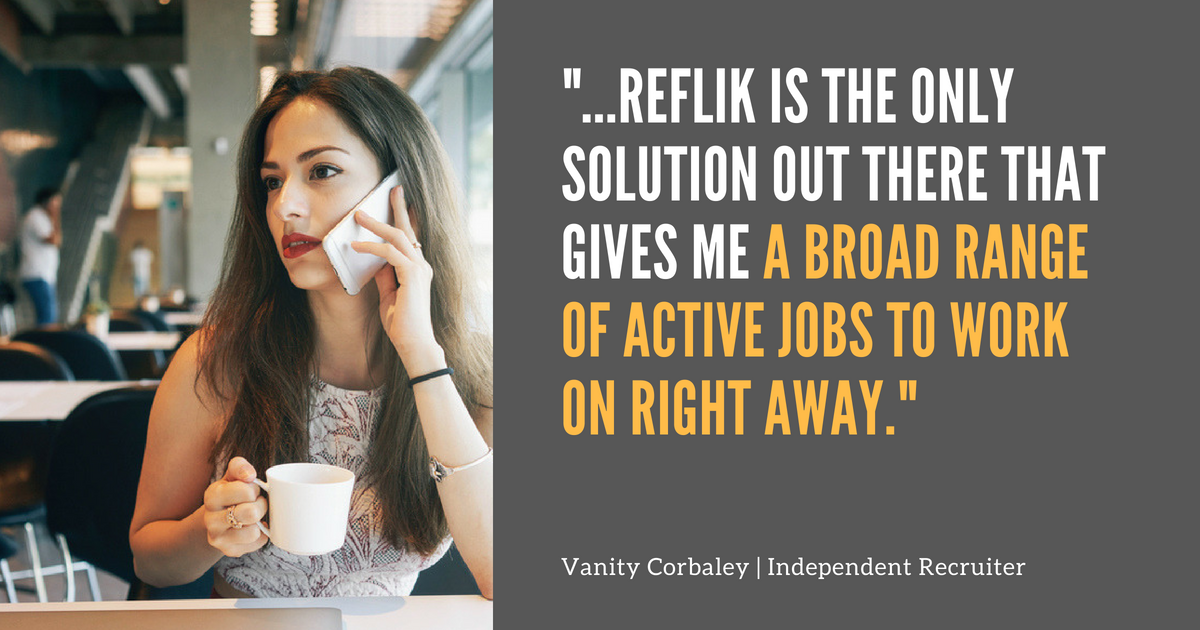 "I absolutely love recruiting," said Vanity Corbaley. "Recruiting is exhilarating. Knowing that I'm making a difference in the world is such a good feeling."
Vanity, a human resources assistant in Seattle, has been recruiting with Reflik in her free time. Recently, she has placed a candidate with Interactive Brokers, one of Reflik's flagship clients, and earned thousands in placement fees.
"It is fulfilling to know that, every time I make a placement, I'm helping someone find a great place to work. I'm also supporting an organization in building a solid team that will create a positive impact."
There are very few things, she explained, that have such a broad impact. By connecting great people with amazing companies, recruiters help to shape strong, vital organizations.
About Vanity
"I've been in HR for close to five years now," Vanity told us. "I'm responsible for payroll, benefits, diversity, inclusion, retention, among other functions. But my heart is in recruiting. I always wanted to recruit full-time, but the opportunity never presented itself."
To focus on recruiting, Vanity decided to build her own recruiting business. Though she had what it takes to recruit for even the toughest-to-fill positions, Vanity had to find clients and had no idea where to begin.
"I began Googling terms like independent recruiter and 'refer and earn money,'" she explained. "I found a few services that claim to give recruiters like me jobs to work on. At the end, I went with Reflik."
Within a few months on the platform, Vanity placed a Client Services Representative with Interactive Brokers. We asked Vanity why she chose to work with Reflik exclusively. Here are three of her reasons.
1.      Feedback
"Probably the single most important tool a recruiter can have to become successful is information," Vanity told us.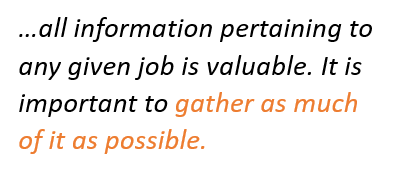 "From salary range, relocation availability, why the job is currently available to where the hiring manager went to college and what most of the company's or department's recent hires are like, all information pertaining to any given job is valuable. It is important to gather as much of it as possible."
Reflik provides members of our recruiting community with as much information as possible. Account managers host job-specific and client-specific webinars every week, along with a weekly call for all recruiters about the latest jobs as well as priority jobs.

"Webinars are a great opportunity to come with questions," Vanity pointed out. "You have a direct line to the employer. The account manager asks so many clarifying questions. It is a very valuable process."
As a technology company, Reflik has built its talent crowdsourcing platform to bring this information to the recruiter in real time. Along with a rich job description with notes and highlights, every job comes with Job Insights.
Job insights are updated as soon as job-related developments happen. They function as an extension of the job description.
Ashish Vachhani, co-founder and CEO at Reflik, explained how job insights are built and exactly why they are unique to Reflik.

"The Reflik process is continuous. We learn something about the labor market, industries, as well as clients' companies, products, teams, and more every time a candidate is submitted to us. This valuable information is provided in the job insights section."
Suppose your candidate is submitted to a position and the client does not want to move forward with her candidacy. For us, this "rejection" is a learning moment. It allows us to ask the client why and we share these findings, not just with the recruiter submitting this candidate but with everyone working this particular job via the Job Insights section.
2.      Job Variety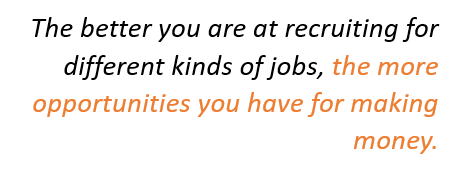 Reflik boasts a high range of job variety. Currently, the Reflik platform has jobs across industries, functions, locations, and seniority levels.
"The opportunity to work on a variety of jobs is one of the major reasons I decided to transition from in-house recruiting to freelance recruiting," Vanity explained. "Job variety allows me to hone my skills across a broad range of recruiting methods and processes – being able to build a system that works for me repeatedly."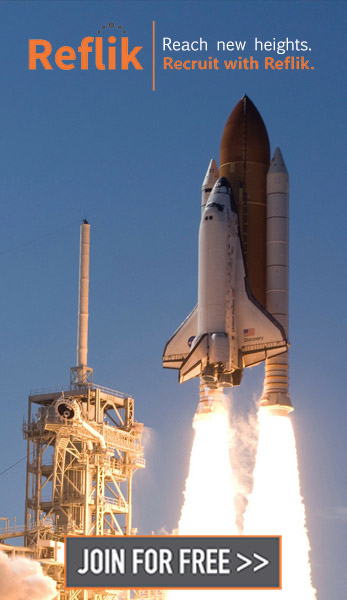 There is another reason why Vanity enjoys Reflik's job variety. "The better you are at recruiting for different jobs, the more opportunities you have for making money."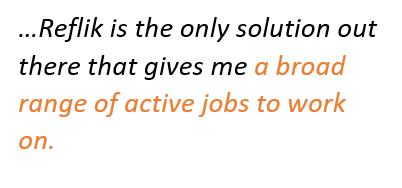 Requiring as much variety as possible in the jobs she works, Vanity knew Reflik was the solution for her.
"I've experimented with so many different sales solutions," she continued. "But Reflik is the only solution out there that gives me such a broad range of active jobs to work on."
3.      Candidate Pipeline
The staffing and recruiting industry is a very competitive space. Large, Fortune 250 companies, who have the capital

to pay high placement fees, tend to work with dozens of recruiting agencies. Some work with hundreds. Traditionally, within the staffing/recruiting industry, there is no transparency about how many people are working on a certain job and how far their candidates are in the hiring process.
One way Reflik is innovating in the space is by implementing the Candidate Pipeline feature. Reflik's Candidate Pipeline is built for each job available on the Reflik platform. Members of the Reflik recruiting community get unprecedented visibility into the competition. Where along in the recruitment process are their candidates? How many candidates have been submitted to a particular requisition? Based on this data, a recruiter can begin working on the job requisition in question or move onto another opportunity.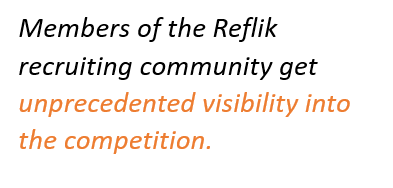 "Reflik's candidate pipeline feature is a life-saver," Vanity noted. "It tells me what jobs to work on and what jobs to maybe hold off on. Moreover, by analyzing the Candidate Pipeline in the right way, I can frame the right questions at the right time for a client's hiring manager and recruitment team. This empowers me to find the right candidates."
Traditionally, recruiters are taught to ask the question: What has worked in the past? Whether the client has in-house recruiters or is working with a recruiting agency, recruiters ask what were those recruiters doing correctly? What could they have done better?
The Candidate Pipeline gives more structure to these questions. They become more pointed. If there is a large

number of rejections after employer review, Vanity can ask the account manager about learnings and refer to the Job Insights. Why is the employer rejecting so many candidates?
Alternatively, based on the information presented on the Candidate Pipeline, Vanity knows when to ask about why something is working. If there are candidates in the offer stage for one job and Vanity is working on another job at the same team within the same company, understanding what went well is critical to placing a candidate for the second job.
Conclusion
Closing out our conversation, Vanity told us: "There are so many reasons to go with Reflik, but at the core, Reflik's technology provides recruiters with an immense amount of intelligence and capabilities to do recruiting like it has never been done before. They are making it possible to find talent using cutting-edge processes that work brilliantly."