A great recruiter is only as strong as their network of candidates. The best recruiters are consistently meeting people and building relationships. In this installment of our Lunch & Learn series, Lori Bradsell, Reflik's Director of Strategic Accounts, walks through a variety of techniques to source passive candidates.
You can view the full webinar recording and presentation slides at the bottom of the article.
Why Use Non-Traditional Candidate Sourcing Methods for Recruiting?
After years of economic recovery, unemployment is at an all-time low. That is great news from the perspective of a job seeker. However, it presents some significant problems for companies hiring and recruiters. Job security means top candidates aren't actively looking for new roles. This makes surfacing the best candidates for a role particularly difficult. Building relationships with candidates, across industries, companies, and location, is difficult. Every recruiter is trying to attract the same candidates from the same limited pool and make the process as quick as possible. This situation has become known as "The War For Talent." The best recruiters, however, are working constantly to develop new relationships and uncover people that are not yet on the radar of other recruiters.
How Can Recruiters Approach Job Candidates More Effectively?
Before we list the non-traditional sources of candidate discovery, it's important that you approach the sourcing process in the right way. When you do start contacting candidates, you want to make sure you reach out to the right people, at the right time. There are four key areas of preparation:
Research both the job and the client. Understand their needs and consider listing the top three to five needs of the employer. Understand the role and you are able to better understand which candidates are ideal and which are not a match.
Explore the client's industry. To understand the needs of the client, you need to understand their place within the industry, and their competitors. What are alternative job titles? What are the common key skills, or are seemingly similar job roles at other companies different?
Ask for more details. You can never have enough information in your hiring process. If something is unclear, clarify. Any help the account manager or hiring manager can provide will help you find the right candidate for them.
Prepare an outreach plan. This is where you decide how you are going to approach prospective candidates and which of the following tools and methods you will use to reach out and find top talent.
What Are Non-Traditional Sources to Recruit Job Candidates?
Sourcing Through Social Media
Social media has become one of the most powerful tools for hiring today. The most obvious professional sites include LinkedIn, Github for developers, and Behance for creatives. However, the common social media sites are also useful tools – Facebook, Twitter, Instagram, and even Snapchat. These are best used for inbound marketing which you can harness simply with the right hashtags and interactions. When using social media, always keep a professional tone, present your hiring business as a knowledgeable authority, and make sure you don't always make everything about yourself.
Boolean Searches

This is an important skill in every recruiter's toolbox. These are simply a way of combining words and search terms to include or exclude specific keywords – AND (environment AND engineer), NOT or a minus symbol (engineer – environmental), OR (environmental scientist OR researcher), for example. Learning this method helps you weed out the candidates who are not what you are looking for and limit your pool to those who are most relevant. It's a time saver particularly useful on sites like LinkedIn, Github, and Behance.
Ask for Referrals
Word of mouth is one of the most effective methods for acquiring new clients for any type of business. It is useful to have a consistent policy on asking for and rewarding referrals. As a recruiter, you'll need two policies. One for employer referrals and the other for candidate referrals. Consider offering prizes, discounts or other perks to encourage your current contacts to refer your business to their clients, contacts, and friends. Finally, adopt an ABA policy – Always Be Asking (for referrals).
Events – Joining and Hosting
Join as many groups as possible and relevant. Too many recruiters use groups as a reactive method. But if you're proactive, you can increase that client and candidate pipeline before roles become available. Make your business visible and be a useful contributor to the group. Curate content such as webinars and help people out with their queries. Your business will gain a reputation as a thought leader. Most important of all, be authentic.
Focus on Your Personal Brand
The most important point is that you control your personal brand. Use privacy settings to control who sees what on social media, remember that your professional content needs visibility. Before you post anything personal, consider whether it is something you would be comfortable for your grandmother to see or read. We call this the "Grandma Check." In today's world, it is important to search for yourself on search engines regularly to see which content appears the most often. Always aim to create a positive impact with all of your postings. We recommend using a professional email and ideally a professional domain or URL – this will be publicly searchable. Also, set up a website on a platform like WordPress, Wix, Squarespace, and other common website builders. This helps to build credibility with candidates and clients.
Utilize Sourcing Tools
We have already discussed some common sites such as social media. But there are some other sites we strongly recommend. They cover a variety of functions to help you connect with candidates, or help you be better prepared when speaking with people in different roles.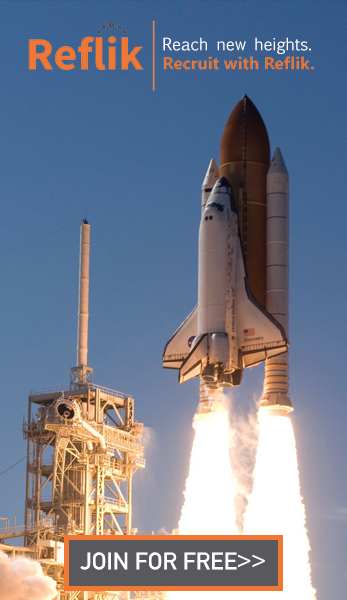 We put together a more detailed list of sourcing tools that you can find here: Top Sourcing Tools for Recruiters
View the Reflik Lunch & Learn Candidate Sourcing webinar recording:
View the Reflik Lunch & Learn Candidate Sourcing webinar slides: