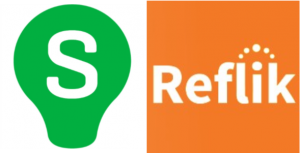 SOMERSET, N.J., Oct. 11, 2016 /PRNewswire-iReach/ — Reflik, the leader in crowdsourcing talent, today announced that it has partnered with SmartRecruiters, the Hiring Success Company, to offer a new way to source top talent on SmartRecruiters' Marketplace. The partnership integrates Reflik's innovative talent crowdsourcing platform into SmartRecruiter's complete talent acquisition platform, to help companies find quality candidates in half the time and for half the cost.
Reflik sources top-quality candidates from its extensive network of thousands of recruiters and industry professionals. Then, Reflik's proprietary algorithm and dedicated account managers filter and rigorously screen the most qualified people to deliver the 10 most qualified and ready-to-interview candidates in less than 10 days. Employers only pay for a successful hire, while recruiters and industry professionals receive cash rewards for successful hires.
"We are thrilled to launch Reflik on SmartRecruiters' Marketplace and help more customers source top talent," said Ashish Vachhani, CEO of Reflik, Inc. "Reflik is an innovative way to find talent – we crowdsource the most qualified candidates through our extensive recruiting community and our dedicated account managers drive the process. We are able find the right people quickly for less."
The SmartRecruiters Marketplace dramatically eases the traditional pain of integrating 3rd party recruiting solutions into applicant tracking systems by providing over 250 pre-integrated sourcing, advertising, testing, and screening solutions.
"We are pleased to have Reflik join the SmartRecruiter Marketplace and impressed with how well their technology integrates with ours" said Jerome Ternynck, SmartRecruiters Founder and CEO. "Recruiting and hiring candidates through crowdsourcing is a new and powerful way to identify, source and engage with potential applicants. Together with Reflik, SmartRecruiters will help customers accelerate their hiring efforts and find their dream candidates."
To learn more about SmartRecruiters' Marketplace, visit marketplace.smartrecruiters.com
About Reflik
Reflik, the leader in crowdsourcing talent, finds top candidates in half the time and for half the cost, through its extensive network of recruiters and industry professionals. More than 150 businesses use Reflik to hire top candidates, including, Marsh & McLennan Companies, Reckitt Benckiser and CarMax. CIOReview selected Reflik as one of the 20 Most Promising HR Technology Solution Providers of 2016. Learn more at Reflik.com
About SmartRecruiters
SmartRecruiters' modern enterprise talent acquisition platform is the generational successor to yesterday's applicant tracking systems, allowing organizations to find, engage and hire the great talent they need to compete effectively in today's economy. Atlassian, Ancestry.com, Equinox Fitness Clubs, Marc Jacobs, NBTY, Skechers, and Ubisoft are among the leading enterprises that have replaced their legacy systems with SmartRecruiters' intuitive, powerful and complete solution. For more information, follow us at @SmartRecruiters, on LinkedIn or on https://www.smartrecruiters.com.
Media Contact: Kristen Fletcher, Reflik, 631-398-3456, kfletcher@reflik.com
News distributed by PR Newswire iReach: https://ireach.prnewswire.com