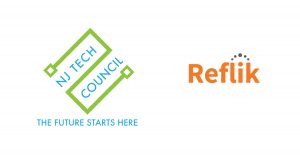 Reflik, the leader in crowdsourcing talent, won the Investors' Choice Award at the New Jersey Tech Council's 21st annual Venture Conference held on April 12th. Forty of New Jersey's most successful early-stage, high-growth companies across a number of industries competed for this prestigious award at the Conference. Reflik came on top.
"Congratulations to the Reflik team for their unique and thoughtful approach in addressing challenges around recruiting and talent acquisition," said James Barrood, President and CEO of the NJTC. "Talent Acquisition is a hot issue, especially as companies continue to search for good people who fit very specific needs and pains," Barrood continued. "Since the age of Thomas Edison, New Jersey has been a center of innovation excellence. Companies like Reflik carry on that proud tradition."
This award comes after NJBIZ named Reflik one of the Best Emerging Businesses in New Jersey and New Jersey Economic Development Authority (NJEDA) announced that Reflik will be the first company to receive funding through its Co-Vest Fund.
"We are thrilled and at the same time incredibly humbled by the enormous amount of support we continue to receive from the vast, diverse, and incredibly thriving business community in New Jersey," said Ashish Vachhani, Reflik's CEO.
Reflik brings employers and recruiters together to match top quality talent with great positions, and make the experience extremely rewarding for everyone involved. Reflik sources top-quality candidates from its extensive network of thousands of recruiters and recruiting firms. Then, Reflik's proprietary algorithm and dedicated account managers filter and rigorously screen the most qualified people to deliver the 10 most qualified and ready-to-interview candidates in less than 10 days. Employers only pay for a successful hire, while recruiters and recruiting agencies receive cash rewards for successful hires.
Reflik's platform easily integrates with major applicant tracking systems and is one place where employers can access thousands of recruiters – drastically reducing administrative burden and offering savings of up to 50%.
About Reflik
Reflik, the leader in crowdsourcing talent, finds the perfect ready-to-hire candidates in 10 days or less, through its extensive community of thousands of recruiters. Hundreds of companies use Reflik to hire top talent, including Fortune 500 companies such as Canon, Marsh & McLennan, and General Dynamics. CIOReview selected Reflik as one of the 20 Most Promising HR Technology Solution Providers 2016 and InsightsSuccess ranked Reflik as the most innovative Talent Acquisition company to watch in 2017. Reflik has been featured in Forbes, CBS, TechRepublic, and more. Learn more at Reflik.com
About New Jersey Tech Council
The New Jersey Tech Council provides business development, education, networking and recognition opportunities as well as advocacy for the state and region's technology businesses. By collectively representing tech, life science and tech-related companies and organizations as well as the professional firms that support them, the Tech Council has the unique ability to: offer opportunities to learn, network and grow; recognize and promote member companies and their leadership; nurture the tech and STEM talent pipeline critical to growth; provide access to financing sources and additional resources; and advocate and support public policy which strengthens our ecosystem.