At this year's Work Awesome conference, Reflik earned the top spot in the category of "Best Sourcing Technology" as part of 2019's The Workies awards. Reflik edged out finalists in the category, which included runners-up, Greenhouse and JobDiva.
Reflik's COO and Co-Founder, Ash Geria, and, Director of Community & Strategic Alliances, Scott Poniewaz, were on hand to accept the award. The Workies is a unique awards program that recognizes, rewards and celebrates the achievements of Talent, Culture, Brand and Technology leaders challenging the status quo and innovating within the HR industry worldwide. The conference and awards ceremony was hosted at the New York City offices of Grant Thornton in Midtown Manhattan on October 24, 2019.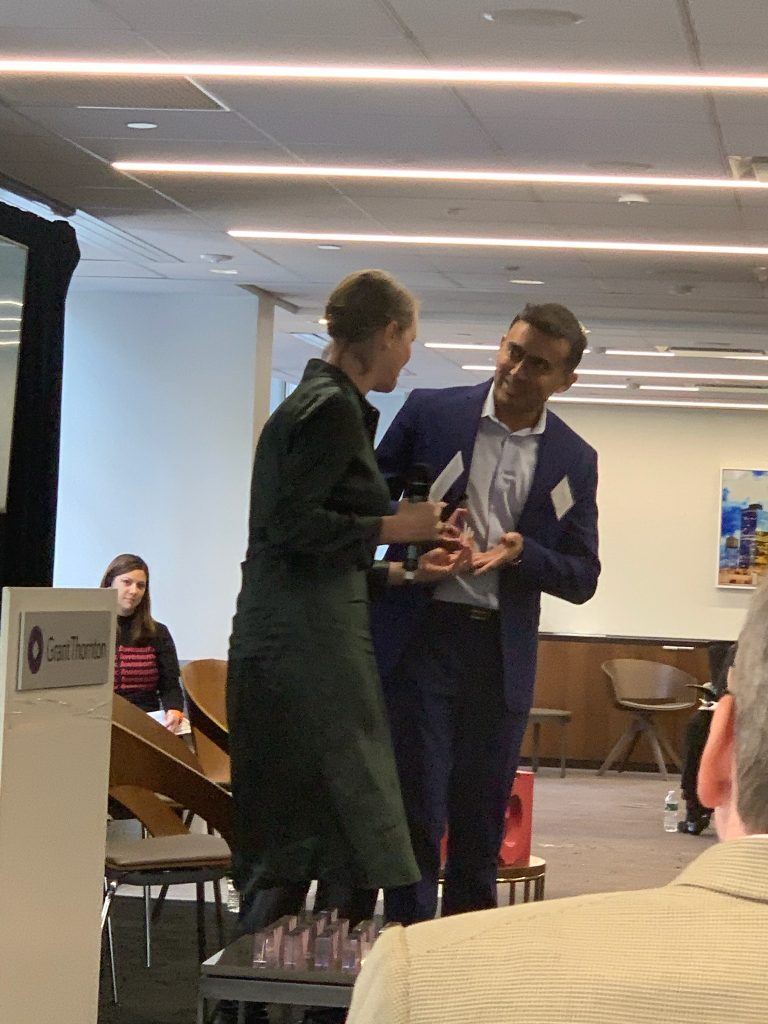 Other companies recognized included Lattice for "Best HR Support Tech," L'Oreal for "Best Employer Brand," The Muse for "Best Use Of Employee Benefits," Sweetgreen for "Best Purpose Initiative," Wegmans for "Best HR Team of the Year," and several others. We have listed all of the finalists below.
The Workies were part of the broader Work Awesome New York conference, which aimed to tackle the big ideas surrounding the future of work. It featured speakers as varied as Pooja Anand, the Head of People & Leadership at Siemens, to Michael Lang, the Co-Founder of the legendary Woodstock music festival. Other great discussions were led by Aria Finger, the CEO and self-described "Chief Old Person" of DoSomething.org, along with Brenda Wagner, the Chief People and Culture Officer at Grant Thornton, and Knotel Co-Founder  & CEO Amol Sarva. Each brought different actionable insights to the world of talent acquisition, company culture, and other outlooks on the future of work.
"Reflik is honored to receive recognition among so many companies running cutting edge HR and talent acquisition programs, while also standing out in the categories of HR Tech as the top sourcing technology at this year's The Workies awards," said COO and Co-Founder Ash Geria after the event.
Reflik provides talent crowdsourcing and recruiting agency management solutions to some of the largest Fortune 500 companies like United Airlines, DTCC, Uber, Marsh & McLennan Companies, Canon, J.B. Hunt, and hundreds more. Designed to help uncover top talent more quickly by casting a broader net, more companies turn to Reflik, which hosts the largest recruiting network of its kind.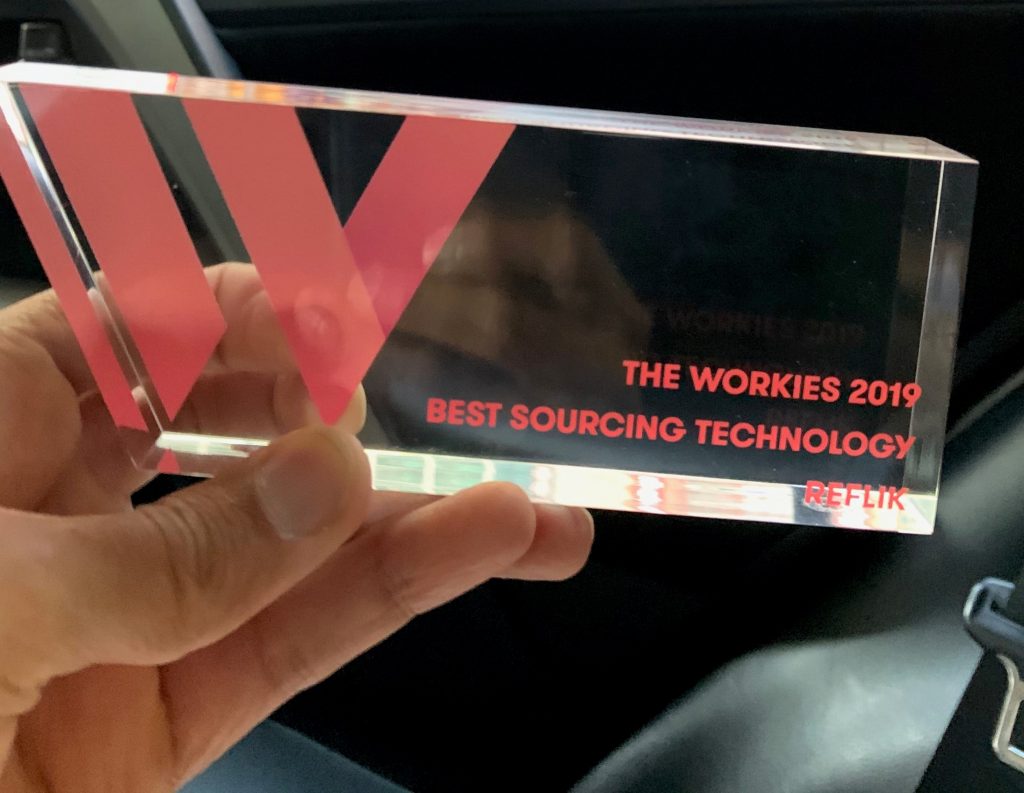 The Workies Awards Finalists & Winners, 2019
(Category winners denoted with bold & italic lettering)
| | |
| --- | --- |
| Best Onboarding Process | Tydy/Unilever |
| | Zappos |
| | Quora |
| | |
| HR Team Of The Year | A Modern Way to Work |
| | Wegman's |
| | Johnson & Johnson |
| | |
| Best Use of Employee Benefits | The Muse |
| | Ultimate Software |
| | Squarespace |
| | |
| Best Coaching/Mentorship Program | iMentor |
| | Soho House / Routes In |
| | GoCoach |
| | |
| Best Emerging HR Leader | Jaime Battle, Airbnb |
| | Theresa Pauzer, 1010 Data |
| | Madison Butler, EverlyWell |
| | |
| Best Learning & Development Initiative | Level52 |
| | Burberry |
| | AbleTo |
| | |
| HR Director Of The Year | Angela Shaw |
| | LaToya Lyn, Compass |
| | Brett Frank, Slalom |
| | |
| Best Employee Engagement | Online Rewards |
| | Etsy |
| | UiPath |
| | |
| Best Use of Video | ThirtyThree/Capita |
| | TDIndustries |
| | Rolls Royce |
| | |
| Best Internal Comms | ThirtyThree/ACI WW |
| | Hootsuite |
| | Delta Airlines |
| | |
| Best Purpose Initiative | Ultimate Software |
| | Kroger |
| | Sweetgreen |
| | |
| Best Diversity & Inclusion Initiative | Audeliss |
| | L'Oreal |
| | Knotel |
| | |
| Best Employer Brand | Zappos |
| | L'Oreal |
| | UiPath |
| | |
| Best Workplace Design | Delos HQ |
| | |
| | The Barbarian Group |
| | |
| Best Engagement Technology | League |
| | Reward Gateway |
| | Werkin |
| | |
| Best Sourcing Technology | Reflik |
| | Greenhouse |
| | JobDiva |
| | |
| Best HR Support Technology | Sapling |
| | Ultimate Software |
| | Lattice |