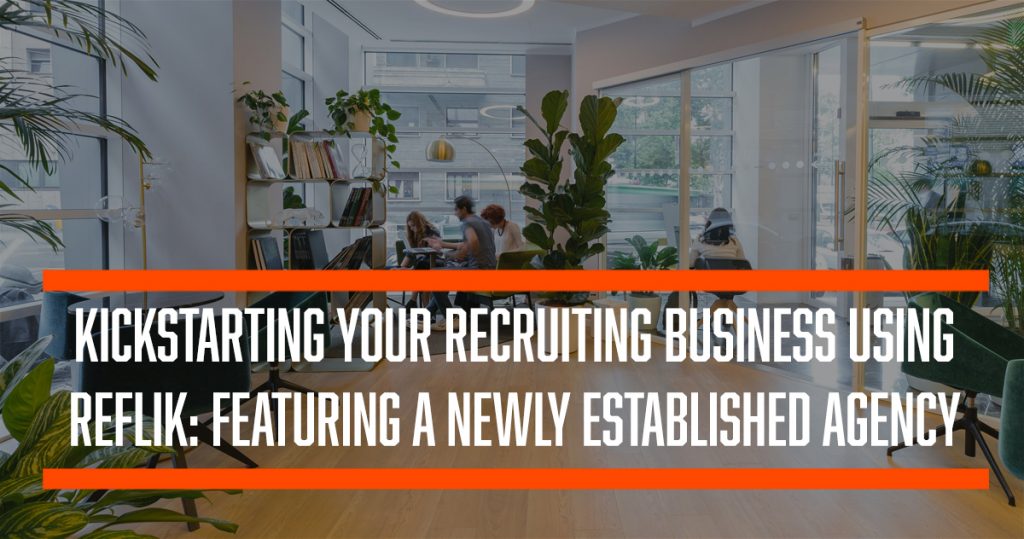 Like many young graduates – Karl Becker was not sure what he wanted to do after college. That was until a chance discussion with a college friend planted the seed of an idea. That seed (recruitment, naturally) became the right career choice for Karl. A year after starting his recruitment business, he discovered Reflik. Now, only a year later, Karl is Reflik's most recent success story.
Here, he discusses how the opportunities on Reflik enabled him to boost his recruiting business and highlights strategies that helped him find success on the platform.
Karl Becker Explains How He Found Reflik
Karl's partnership with Reflik began in June 2020 and Karl made his first placement in the first six months.
If it had not been for one of his earlier clients recommending the platform, Karl might not have found Reflik when he did. By Karl's own admission, that client had heard great things about the platform and thought it would be a good way to expand recruiting opportunities.
It turned out to be a great decision. Karl realized quickly that Reflik provides opportunities to work with clients that it would ordinarily take years to foster a relationship with as an independent recruiter.
"[And] The platform itself is easy to use and keeps track of everything for you."
Finding Success Through Reflik
Karl is open about how powerful Reflik is as a recruiting platform and how much it has helped his business grow. He likes the streamlined process for submitting candidates and following up on their status:
The technology provides an in-built Application Tracking System to allow recruiters to stay updated at every step of the way.
The status of candidates is updated in real-time. This especially helps him allocate more time to recruiting and less time on follow-ups.
Karl believes this refreshing approach to recruitment enabled him to make his first placement with a Fortune 500 client on Reflik. That client was Canon, and the hire was for a role that needed government and consumer regulation and optical engineering experience.
Despite this being niche, Karl was able to find the right candidate and they were offered a salary well above their expectation. Reflik continues to help companies fill their requisitions with recruiters like Karl who effectively leverage the information on the platform and their sourcing tools.
How Can a New Recruiter on Reflik Excel?
With Reflik managing client relationships, recruiters have a great opportunity to expand into new areas of the labor market. There is wisdom in sticking with familiar industries and companies with whom you have the most experience. However, Karl believes recruiters should leverage this platform to also look outside of that comfort zone and gain more experience.
The detailed insights in the job descriptions and specific feedback shared by Reflik Account Managers will provide more direction to your candidate search. He recommends leveraging this information and using an expansive search: learn keywords and industry titles to help you in your search. As an example, you could find your next Business Analyst among candidates currently working as Project Managers.
Karl stresses the importance of looking in the right place for candidates – go where the talent is. As an example, Karl said he would not use LinkedIn to find candidates for roles requiring government security clearance.
Recruiting also requires creative and broader thinking. Karl recommends new Reflik recruiters seek that perfect balance between trying new things and not overstretching by trying to fill too many positions at once. It is important to strategize and plan the resources that can be leveraged to achieve success.
This mindset is what helped Karl Becker grow rapidly. He is now outsourcing some of his operations to continue expanding his recruiting business.
Concluding Thoughts from Karl Becker
With a high volume of requisitions being posted daily on Reflik, new users may find themselves overwhelmed with choice. The wisest course is to select a few companies and jobs at first. Once you have a few candidates in various stages of the review process, then explore the other jobs on the platform.
However, if you are a new user and already have a moderate amount of success, Reflik provides great opportunity to step out of the comfort zone. There are plenty of opportunities to expand both your business and your scope into areas for which you may never have recruited.
Potential is high on Reflik.
Full Interview: Karl Becker, Owner/Technical Recruiter
Please give us an overview of your recruiting career. How many years have you been recruiting and how did you get involved in recruiting?
​After getting my associates degree in business from Missouri State, I wasn't exactly sure what to do with a degree in general, Bachelor's or otherwise. I decided to take some time to figure things out a bit more and find a good way to work for myself while I did it, I was still 17 when I first went to college after all. Someone who I had gone to college with had travelled to different parts of the world as a tech recruiter, including Australia which piqued my interest. He showed me the ropes and it turned out to be a really good fit… that was 2 years ago, and I haven't looked back.
How did you find Reflik and how long have you been working on the platform?
​It was actually recommended to me by my first local client as a way to get a wider variety of experience and to not be totally reliant on local connections to get ahead. I'm not sure they even knew much about Reflik at the time, but it turned out to be a good decision.
What do you like most about this platform?
​It's hard to pick out one thing. From my standpoint it's the potential to work with clients it would take years to have access to otherwise, however the platform itself is easy to use and keeps track of everything for you, making it particularly easy to add to any pre-existing workload.
How has Reflik helped streamline your recruiting process?
​Basically, after a candidate has filled out all of the information on their application (usually with a little help), Reflik tracks and keeps you updated at all steps, so you don't have to be constantly stuck in a string of emails/updating your ATS. Reflik essentially has a built in ATS that does the leg work for you, which again makes it ideal to add to any pre-existing workload and keeping the two or more workloads separate.
What type of jobs have you recruited for on the platform?
​I started looking at my usual things, but honestly, it's been some of the highly complex things that draw me in and encourage me to work on them. My first big win was a full-time direct hire position with Canon USA – a member of the Healthcare Optics Research Lab who had to be familiar with a variety of government and consumer regulations as well as have a background in Optical Engineering. Never thought I'd have success but sure enough, I found what I thought to be a unicorn and she was given an offer well above her desired salary.
What indicators have helped you decide which jobs you want to recruit for on the platform?
​There are a few things I look for, the first is usually the company. There are several that I prefer to work on, and they usually have a lot of work between them. However, I like to scroll through and see everything that's available and give things I don't know very much about a shot – I may not always have much success but I find the learning experience to be rewarding. Slowly but surely learning at least a little bit about all of the corners of the labor market, I'd like to think.
When it comes to candidate sourcing, what techniques have helped you find qualified candidates and earn placements on Reflik?
It's important you're looking in the right place. I run 3 different recruitment tools, and I know not to look for candidates with security clearance on LinkedIn for example. Outside of that, it's important to find which keywords and job titles that would apply to the role you are looking for, you never know when you'll find the business analyst you've been looking for in the project manager section. Usually, the difference in title is not that excessive, however in markets where the talent pool for a specific job req is quite dry… it doesn't hurt to get creative.
Do you have suggestions on strategies that have helped you earn placements on the platform?
Be willing to give new things a shot, but don't overextend yourself between too many positions at once. You'll end up confusing candidates and chasing pipe dreams – stick to what you know until you're ready to dedicate time to landing things that you aren't the most familiar with.
How has working on Reflik contributed to the growth of your recruiting business?
​To make time for all of the open reqs I have between local clients and Reflik, I've considered hiring someone hut I think it's a bit early yet. As of right now – It's just forced me to be extremely effective at managing my time, but I definitely have the opportunity to grow beyond my current size if I want to. I've had to outsource some of my other reqs to other recruiters, etc. In the relatively short time I've been working on Reflik, I've seen the potential to grow relatively quickly and just need to make the steps to doing so.
What additional tips or tricks can you share for recruiters and agencies that are new to using Reflik?
There are a lot of jobs to work on, find a few companies that you'd like to focus on in the beginning, so you don't overextend yourself and get stressed out. Once you're comfortable and have some candidates at various stages in the hiring process and know what some of your favorite companies are looking for; then I think it's a good time to start exploring the vast job board that has been created and is constantly growing. If you're already an expert – you may as well hit the ground running and step out of your comfort zone, there is just a ton of opportunity to learn about the fields you have never recruited for in the past.